Download IWA MS King of the Death Matches 2018/05/19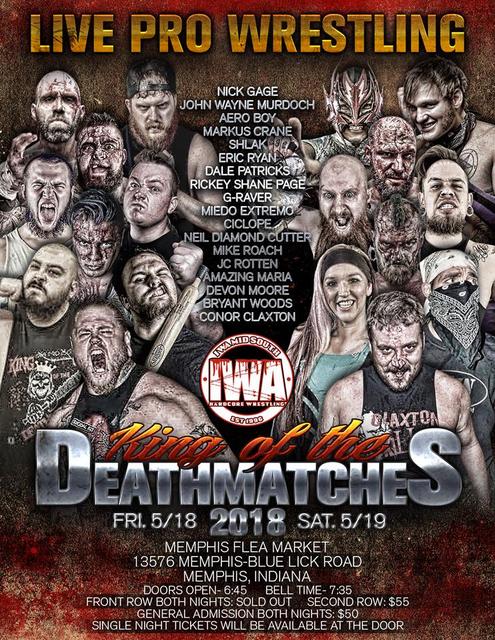 Download IWA MS King of the Death Matches 2018/05/19
Night 1 (Round 1):
1. Barbed Wire Boards, Barbed Wire Bats & Loose Lighttubes:
Devon Moore vs. Amazing Maria vs. John Wayne Murdoch
2. Taipei Death & Four Corners Of Pain:
Bryant Woods vs. Rickey Shane Page vs. Conor Claxton
3. Home Run Derby Death Match:
Nick Gage vs. JC Rotten vs. Mike Roach
4. Gusset Plate Chairs, Light Tube Doors, & Loose Tubes:
Shlak vs. Eric Ryan vs. Aeroboy
5. Barbed Wire Ladders, Lighttube Pits & Hot Coals:
Dale Patricks vs. Neil Diamond Cutter vs. Miedo Extremo
6. Fans Bring The Weapons:
Markus Crane vs. G-Raver vs. Ciclope
*Ok, fuck this…
Night 2 (Round 2):
1. Quarter Finals: Cinder Blocks & More Fucking Light Tubes
2. Quarter Finals: Got a Shopping Cart (But can't afford groceries) Death Match:
3. Quarter Finals: Louis Gusset Jr. Plate Madness, Light Tube Ropes
4. Quarter Finals: Fans Bring the Weapons…and Herpes
Round 3:
5. Semi-Finals: World Series of Glass, Light Tube Fixtures Edition
(Sever an artery! #LifeGoals)
6. Semi-Finals: World Series of Glass, Mirrors Edition
(Watch yourself bleed to death to a chorus of cheers!!!)
Non-Tournament Action:
7. **Triple-Threat "Lost In Round 1, So Let's Fucking Kill Eachother" Match**:
??? vs. ??? vs. ???
Round 4:
8. Finals: House of Horrors (aka: Ian Rotten's Bathroom) Match
 
Watch online
Waiting finish converting video
Server 1
Server 2
Uploaded.net + rapidgator.net